My summer is only ONE MONTH long…
So I have set my standards VERY HIGH?  The UK is rude okay? I am not exaggerating in that title either! Okay, so maybe I am obsessed with hyperboles but it's only A SLIGHT obsession trust me. Do you see how much I rave about ice cream than exaggerate see? Obsession is ice cream. I am sane.
Now, moving on. I have a LONG LIST of books I have been meaning to read for LITERALLY FOREVER because in case you didn't know, I like to procrastinate (why do we keep talking about my hobbies today. ice cream. hyperboles. and now procrastination. seriously who is writing this post??? ). And basically, my TBR will kill me very soon! And summer has practically JUST started for me so perfect timing right?!
So basically this is just a smol list of my compact TBR. Have fun reading! I'm also linking with ARC August and squeezing into this post too because it's fun. ALSO, ALL THE BOOKS link to their Goodreads page and THAT TOOK TIME OKAY? So please appreciate that effort of mine. Also inspiration from this post by May.
THE RAVEN CYCLE
 So, I have heard A LOT of mixed things about this book. A  lot of people literally flail about this series and then others say it was disappointing and full of annoying tropes? So I'm very unsure about reading it but I DEFINITELY WILL because it looks fantastic (the covers are so pretty) and I want to see what the hype is about mostly. I follow the author on twitter and she is officially hilarious, I tell you. I'm aware I'm very late to the somewhat hype but I MUST GET TO THEM!!!
HIS DARK MATERIALS
So, I read this series a million years ago and kind of don't remember what happened. I just remember that it was an AMAZING series and I AM SUPER excited for The Book Of Dust so I am going to re-read this amazing series! I'm thinking of getting the audiobooks because apparently, it's amazing!
THE INHERITANCE CYCLE
Eragon and the rest of these books have been sitting on this SHELF FOREVER, really. And I have heard nothing but amazing things and It's fantasy so I HOPING IT's amazing. I've just been putting it off because they look super daunting but this summer I WILL DEFINITELY READ THEM. I think.
GRISHA TRILOGY
I have been meaning to read The Grisha Trilogy ever since I read Six Of Crows. I've heard it's not AS good but hey, this LEIGH BARDUGO, the queen, we are talking about. Basically, i need to read this soon.
ILLUMINAE FILES
SO BASICALLY this is a sci-fi that EVERYONE has been talking about. I admit Gemina has been making me feel JUST A LITTLE LEFT OUT. But 1) the covers look gorgeous 2) i need to read more sci-fi and 3)THE HYPE. So, i actually was going to buy Illuimunae because it was SO heavy and i love heavy books but saw something about romance and MEH. BUT NOW, apparently, i read a big spoiler without knowing it? I AM SAD, i so wanted to be damaged. SO…I still will read these?
MONSTERS OF VERITY
Okay, I didn't know this duology HAD A NAME? I just thought it was This Savage Song and Our Dark Duet which REMINDS ME. i need to read this. Apparently ODD is a soul-crusher so I obviously am going to read it??? Also, can we just appreciate these covers for a second? Thanks. I also need to read all other of Schwabs's books as well because she's an amazing writer!
SMOL LIST OF OTHER SERIES
Lord of the Rings
Flame In The Mist
Wrath and Dawn
An Ember In The Ashes
The Mortal Instruments
I only have TWO for this category!? I like series. What can I say?
THE FAULT IN OUR STARS
OKAY. OKAY. OKAY. You can kill me. I know. I HAVEN'T read a single John Green book in my entire life. It's kind of shocking since I read so many books but apparently, I've just never had the opportunity. And since basically everyone is squealing over his new Turtles All The Way Down, I think I'd better start reading this book which has been spoiled for me over and over again.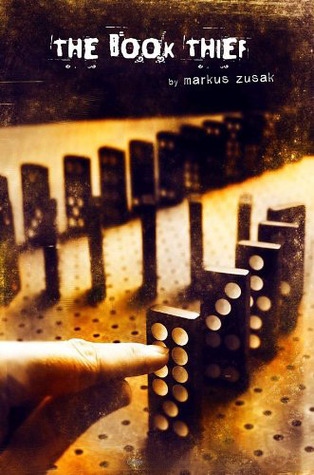 THE BOOK THIEF
So, I've watched the movie…and haven't read the book. I WAS CRYING BUCKETS AT THE MOVIE, I tell you. My soul was crushed and I DEFINITELY want to read the book! I've had it on my shelf since I got it for my birthday and WELL…time has passed. 10/10 RECOMMEND the movie ❤ My heart.
SMOL LIST OF OTHER STANDALONES
The Gentlemen's Guide to Vice and Virtue.
Caraval
Since most of THE SERIES above are Fantasy I thought i'd show some appreciation to this 2nd favourite genre. #EQUALITY. Though I still LOVE Fantasy!
Queens Of Geek – I have heard so much about how ADORKABLE this is and just look, geek appreciation? I WANT.
Fangirl – I think the title just sold this book to me. I'm not even sure what this is about but FANGIRLS.
Goodbye Days – I loved The Serpent King SO SO SO much and it was so sad! Apparently, this is sad too SO OBVIOUSLY Jeff Zentner is an amazing author and i need this book like right now because apparently it's written superbly!
Saints and Misfits – Muslim Rep. Contemporary. Hype.Own Voices.  Pretty Cover. HELLO, I AM READING.
Eliza and Her Monsters -Excuse me, LITERALLY EVERYONE is talking about this book and it sounds amazing! I also really like the title and the cover so there's that! And there's internet appreciation and it just SOUNDS amazing and I've heard nothing super bad about it…SO I MUST ENJOY.
SMOL LIST OF OTHER CONTEMPORARIES
When Dimple Met Rishi
Here Lies Daniel Tate
To All The Boys I've Loved Before
If Birds Fly Back
Letters To The Lost
So I'm linking up with ARC AUGUST to try and tackle my actually quite small stack of E-ARC's from Netgalley.
SO, sadly, because I had been procrastinating for so long, One of Us Is Lying EXPIRED and so I can't read it anymore. I AM SAD. This happened to the Bone Season and Den Of Shadows and EXCUSE ME WHILE I CRY. This is why I hate myself! WHY DID I LEAVE THESE BOOKS FOR SO LONG? Someone tell me to never do this again.
In much better news though, I have SOME AMAZING other ARC's and I AM SOOOOO EXCITED FOR THEM. HELLO. I have been raving about them ever since I received them and I better read them in time OTHERWISE I might have to kill someone (just kidding)
Crazy House – James Patterson. Need I say more?
Daughter Of The Burning City – probably the one I AM MOST excited for. It's all about a circus and illusions and a little murder and mystery and I AM SO LUCKY.
There's Someone Inside Your House – 2nd most excited for. IT'S MURDER. it's SCARY. I AM NOT READY.
UPDATE: I finished this book and I was a bit underwhelmed! It was creepy and chilling and…you can read the rest of my review here.
Juniper Lemon's Happiness Index – Seems like a super fun book? AND THAT COVER ❤ All the love!
Am I the only one in the UK with summer just starting? How is your SUMMER TBR? How long is your summer break and how many books have you been reading? LINKING TAKES TIME, am I right?