This is one of my favourite posts of the year!! I know everyone else says that but it's for a good reason because this tag…is so much fun.
You can check out me doing this tag in previous years…But I recommend you don't (I cringe)
Best Book You've Read So Far in 2020
Pride and Prejudice by Jane Austen // Who knew a classic would become an all time favourite of mine? Can you believe Mr Darcy and Elizabeth Bennet invented the very concept of romance? Because, I can. 
You Deserve Each Other by Sarah Hogle // What does it say that my two favourite new 5-star reads of the year are both…ROMANCES. Who have I become? I am shocked and surprised at myself. I'm pretty sure you've heard me all rant about this book but uh, this book had a second chance romance, a hate to love storyline, loads of banter, and is super cute, and I am OBSESSED with it. 
Best Sequel of 2020 so far
*me desperately searching for sequels I've read this year* okay, look I haven't read many sequels this year. I've read The Winner's Crime, which isn't exactly like the greatest sequel ever – I enjoyed it. And then there's some series finales like The King of Crows and Imagine Me, which I rated both 4 stars. So I don't know? I haven't read enough sequels for this question, and will therefore leave it unanswered.
New Release You Haven't Read Yet, But Want to
Bold of you to assume I keep up with new releases! But, the few I am excited about are:
Felix Ever After – I've been hearing the most amazing things about this book lately – and I really hope I enjoy this!
Beach Read by Emily Henry – The premise of this literally sounds SO amazing (the love interests are both writers, and they decide to swap genres…and they're both nemesis…but then…they fall in love) and I have no doubt I will love this one! Also, if any book is described as "hate-to-love" you already KNOW it's on my TBR because that is THE superior trope and you can't convince me otherwise.
Most Anticipated Release of the Second Half of 2020
The Invisible Life of Auddie LaRue by V.E Schwab – I have a feeling I'm really going to enjoy this!! I love Schwab's books and he premise sounds awesome: the main character makes a deal with the devil, and is doomed to be forgotten by everyone she meets, but then someone remembers her name?? Fuck yes.
A Deadly Education – Even though I didn't like Uprooted by Novik, I'm excited for this because a "a school for the magically gifted where failure means certain death" – I'm in?? Plus, the cover is gorgeous. 
How the King of Elfhame Learned to Hate Stories – this is a novella from CARDAN'S PERSPECTIVE…and if y'all don't think i'm judecardan trash before I am person…then you are mistaken. I would like this book in my hands!! Right now!! 
(Honestly I have so many anticipated releases and I think I should make a post on this? Let me know if that's something you'd want to see!)
Biggest Disappointment
I've actually read a lot of disappointing books this year…YIKES but I'll narrow it to two books that begin with D (D for disappointment am i rite)
Daughter of Smoke and Bone – I am absolutely in love with Strange The Dreamer by Laini Taylor, it's one of my favorite duologies of all time. But this? I've been wanting to read this series for so long but I am so let down by how terrible this book was. It started off okay, but I hated the writing style, and the rest of the book was this stupid, boring, dry insta-lovey romance. Which!! Is not what I signed up for 😦
Darius The Great Is Not Okay – I genuinely expected to love this book so much, and for it to become a new favourite. Unfortunately, i had huge problems with the main character's narration and found this book very boring. You can read my review here for more in depth thoughts. 
Biggest surprise
Can I say…You Deserve Each Other because I didn't expect to love it so much … I really need to shut up about Nicholas and Naomi BUT I REFUSE TO. 
The Winner's Crime series was definitely a surprise to me. I had this weird notion it'd be a really trashy series (but in a good way) series and it wasn't. While there was lots of romance, there was also a plot…WILD. I haven't talked about this series a lot yet on my blog, and while it's not a new favourite, I love the characters and their dynamics ALL SO MUCH!!!!
Favourite New Author
Casey MqQuinston, author of Red, White & Royal Blue. I will read anything !! and I mean anything !! they write. I'm so excited for One Last Stop (an f/f rom com with time travel aspects?? I know I will love it) to come out in 2021, because I loved their debut so much.
Newest Fictional Crush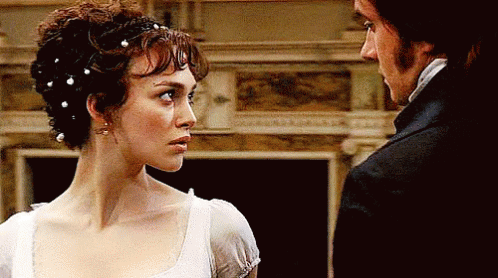 I don't think I really get fictional crushes (apart from Warner) but I do love Mr Darcy from Pride and Prejudice. Your YA bad-boys-with-a-tragic-past could NEVER (I'm calling myself out here) Mr Darcy is simply the sweetest soul in existence and him and Elizabeth's conversations are the light of my life. 
Newest Favourite Character
Elizabeth Bennet,,, I'm TRYING to stop talking about Pride and Prejudice but look, Elizabeth Bennet is simply the most intellectual, composed, intelligent, smart, any other synonym, and I love her for it. She just speaks so poshly and is so sure of herself and I just love her?? So much??
Also, Kestrel from The Winner's Crime series – something about really intelligent and composed female characters…it does something to me. Anyways, I love Kestrel SO MUCH and I enjoy reading her character so much. She's SO SMART and CLEVER and whenever she talks about politics i'm like "i don't know what your talking about but 😍😍😍"
Book That Made You Cry
Peter Pan has made me sob in a way that no other book has made me sob. Sure I cry at books, but I haven't cried at a book like THIS (weeping, sobbing, everytime i stopped crying I would think of the ending and start crying again) in a very long time. I can't even begin to describe why this book is so meaningful and so good, and why J.M Barrie is such a genius, but you'll just have to take my word for it .
Book That Made You Happy?
Heartstopper by Alice Oseman! This is such a cute web-comic. I don't know why it took me so long to start reading it but it's so, so cute and soft and wholesome and AHHH. I get excited for every update. 
Also, not to be annoying, but YOU DESERVE EACH OTHER BY SARAH HOGLE made me so unbelievably happy because it ws funny and sweet and I love Naomi and Nicholas WAY too much…I'M SORRY I DON"T MEAN TO TALK ABOUT THEM SO MUCH BUT I LOVE THEM. 
Favourite Book to Movie Adaptation You've Seen This Year?
I've watched a few movies this year, but the only two in which I've read the book and seen the movie, are P.S I still love you (to all the boys #2) and Love, Simon (I'm very late, I know) I really didn't like the Sequel to To All The Boys, it wasn't executed very well, and Peter was so annoying, and John Ambrose was clearly the better option!

So, I'm going with Love, Simon, because while I had issues with this movie (especially with the whole Martin thing…it was handled badly), it was still so wholesome and sweet, and I loved the friendship and romance portrayed a lot! 
(I also want to watch The Sun is Also A Star because it LOOKS CUTE and I am trash for romance movies)
Favourite Review You've Written This Year?
the way I haven't been writing  a lot of reviews this year and the ones i've written are barely coherent,,, yeah. I feel like I only like my negative reviews … so here are two 🙂
Darius The Great Is Not Okay // The Henna Wars
Most Beautiful Book You Bought or Received So Far This Year?
I've received a total of 5 books this year and out of all of them, it isn't very hard to choose…The Starless Sea!! It's SO SO beautiful. The hardback is just so pretty and perfect to hold. It's just so gorgeous!!! (and bonus: i loved the actual books well)
What Books Do You Need to Read by the End of the Year?
uhm, all of them. I feel like I just curse myself whenever I put books here and I end up not reading stated books for so long so I'll just insert some images. 
Favourite book community member
I'm going to alter this question to say fave book community member that I've only discovered this year. Ash @ Starlight Strands simply has the most beautiful blog ever and her posts are so much fun to read and I'm so glad I discovered her site!! You should all follow because she's amazing!!
hi please link your mid year book freak ot tags in the comments i love reading them!!
ilsa