I think everyone who knows me…knows I stan Amanda Foody maybe a little too much. Ever since falling in love with Daughter of the Burning City (that plot twist still has me shook.), I have just become a hardcore fan. I re-read Ace of Shades this year and just remembered how EXCITING it was.
Today I'm on a BLOG TOUR for King of Fools and I realised,, I haven't even posted my review for one of my fave books of 2018 on my blog? which is insane. SO I DECIDED TO DO A DOUBLE REVIEW!! Because I feel really weird when I just review sequels by themselves!
thank you to haper collins for sending me a review copy of ace of shades and king of fools for review. this did not affect my opinion in any way.
ACE OF SHADES BY AMANDA FOODY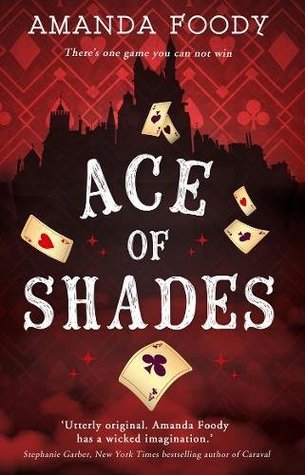 When Enne's mother goes missing, she leave her finishing school—and her reputation—behind to follow her mother's trail to the city where no one survives uncorrupted.

Frightened and alone, Enne has only one lead: the name Levi Glaisyer. Unfortunately, Levi is not the gentleman she expected—he's a street lord and a con man.

Their search for clues leads them through glamorous casinos, illicit cabarets and into the clutches of a ruthless Mafia donna. As Enne unearths an impossible secret about her past, Levi's enemies catch up to them, ensnaring him in a vicious execution game where the players always lose. To save him, Enne will need to surrender herself to the city…
After re-reading this book, I'm just in awe of how enjoyable this series genuinely is. This truly served as a reminder just how much FUN fantasy can be! I just got wrapped up in the mystery, and once the story started going I genuinely felt so exhilarated and enticed!!
ENNE SALTA
Recently, there's been a push in YA for characters who aren't ashamed to be feminine and vulnerable and Enne is exactly that. At first Enne is very polite and stuck up but we soon see her grow out to be really bad-ass and powerful. Fom the beginning she is lying to people, being suspicious and bribing Levi. So I guess it's no surprise I enjoyed reading about her so much! Enne is kick-ass whilst wearing lipstick. We have decided to stan a self-confident QUEEN!

ICONIC ENNE QUOTES:
"It wasn't a lie. It just wasn't the truth."
"For all the girls fed to the wolves"
"She was the girl who'd poisoned the wolf"
Maybe this city hadn't corrupted her at all. Maybe she'd always been vicious"
"So if she had to play, she would not lose. She would not break. She had other business in this city."
She was a pistol dressed up in silk. She was a blade disguised as a girl
LEVI GLAIYSER
MY FAVOURITE CHARACTER IN ACE OF SHADES, A BLACK BISEXUAL ICON, WHO WE ALL LOVE!! He's a little slytherpuff who I adore. like, he's so deeply flawed, but Foody crafts his character so well so we get to see his inner self-loathing but also self-confident character and I'm so here for that type of exploration. I love how Levi is supposed to be all sassy and confident and then as soon as Enne is here, he is The Biggest Mess.
ICONIC LEVI QUOTES:
"You mean, why be poor when I could be rich?" He laughed hollowly.
"Though I like to call myself a businessman, more than, well, a con man."
"He wasn't trying to be a gentleman, he was trying to pay his debts"
Levi didn't know how far he would go, but oh, that knife felt good in his hand. → EMBrACE YOUR SLYTHERIN BOI.
"Sometimes we're not who we want to be because we supposed to be someone else"
"It was impossible to differentiate between his smile and his smirk"
ENNE & LEVI
I kid you not Enne and Levi are the most Extra and literally had me hyperventilating. Can they just STOP with the "Oh damn I would like to kiss you but Won't because I'm just the absolute most." But genuinely, their relationship was so tense and they care about each other a lot – I enjoyed reading about them. And while I wasn't expecting too much form the romance because Enne and Levi only know each other for like a week, they have a lot of chemistry and kinda want them to JUST KISS ALREADY.

"So you cheat" she said, the contempt obvious in her voice.
"We make a business out of winning."
SIDE CHARACTERS
Lola: stubborn, i don't take no shits character, has sad backstory and i'm crying in the club. fierce. and i want to be here pls and thanks.
Jac: can't wait to see more of him in king of fools, he supports Levi so much and their friendship is so wholesome!
Vianca: she's a good villain and I hope KOF will explore her character more.
Lourdes: I totally need a novella about Lourdes SHE SOUNDS SO INTERESTING AND COOL.
NEW REYNES
I loved the City of Sin SO MUCH!! It was dark and creepy and exactly my sorta vibes that I want from a book. Foody creates an intricate and dangerous world that had me hooked. The atmosphere of this book was like, jumping out of the pages, it was so real and vivid i could feel how the creepy vibes in my bones. Gimme a book with secrets, deaths and gambling and I'm honestly here for it.
---
OTHER THINGS I LOVED
The Shadow Game at the end was so intense and I genuinely felt like I was THERE holding my breath
Enne was sometimes just so unrealistic. I don't want to say anything without spoilers but even though I loved her character, there's one thing she done which was supposed to be "omg" but i just was like "whAt how???!!" so yeah.
KING OF FOOLS BY AMANDA FOODY
When Enne save's Levi's life in the Shadow Game, Enne is forced to assume the identity of Seance, a mysterious underworld figure.

Thirsting for his freedom and the chance to build an empire, Levi enters an unlikely partnership with Vianca Augustine's estranged son. Meanwhile, Enne remains trapped by the mafia donna's binding oath, playing the roles of both darling lady and cunning street lord, unsure which side of herself reflects the truth.

As Enne and Levi walk a path of unimaginable wealth and opportunity, new relationships and deadly secrets could quickly lead them into ruin.
THE TONE OF THE BOOK WAS DARKER
While Ace of Shades was a roller coaster ride of casinos, card games and romance this felt like book one but a whole lot more heavier. With topics of politics, substance abuse and a complex exploration of morals and villains, everything felt so much more dense in this book.
Which to be honest? I wasn't expecting. I thought we'd have the exciting, and dangerous atmosphere we had in the first book. So it took me a while to get used to if I'm honest. I definitely was not prepared for the themes in this book. And therefore it took me a while to get into the book.
POLITICS
To be honest? I'm VERY particular about politics. I'm usually not interested in the topic in books, and because of the info-dumping and how complex everything got, I was NOT invested enough to even be bothered about the politics. So I was honestly very bored by this plot line for the longest time.
After the first half of being thrown into it though, I guess I started to enjoy as things started to make sense and other things sorted themselves out, and something about my favourite character's been swept up in all this, really made me started liking the discussion of power dynamics, leaders, and loyalties.
JAC
Jac becomes an increasingly complex character throughout the book. I genuinely felt my heart break for Jac every time I read more about his history with drugs. I personally think it was handled so well. I also enjoyed Jac and Lola's friendship greatly. It was the perfect amount of caring, teasing and banter. ALSO JAC AND SOPHIA WERE SO AMAZING. I love Sophia SO much.
ENNE + GIRL GANG
I feel like I could have LOVED what Foody did with Enne's character in this book. There was much potential for me to be in awe with where she went in this story. But I just didn't. Enne's character got really intense but she just annoyed me greatly. Her and Levi's relationship was ugly and I feel like she never tried to be understanding. And while some of the discussions about Enne, grief and how she had changed really GOT me most of the time she got on my nerves.
If someone wanted to call her naive, then they would. If someone wanted to call her heartless, then they would. It didn't matter whether she decked herself in knives or pearls. The world would always demand that a girl apologize for herself, but she would apologize for nothing.
I was so excited for a girl gang!! IT SOUNDED SO EPIC. But it genuinely felt so poorly done and I was just LET DOWN. All the characters in the girl seemed to have like one personality trait, and that's that they're unapologetically feminine. Which is great! But it got boring real quick when the book just kept shoving the message that they could paint their nails AND be bad-ass. Like I got the point after the 1st time, we don't need to rant about this forever? IDK they just got on my nerves.
ENNE AND LEVI
I have messy feelings about everything. One the one hand, Enne and Levi's miscommunication was annoying. But I wouldn't mind it so much if Enne didn't blow certain situations out of proportion. Like Levi did messed up stuff, fine, but I just felt like Enne was making big deals out of nothing? On the other hand, there were so many almost-kisses I think I had a heart attack. And the actual kiss scenes in here were so well-written and had the rights amount of tension and AHHH IM SCREAMING THIS IS SO CUTE I CANT HANDLE moments. I'm such a fangirl omg.
LEVI
I know a lot of people didn't like Levi in this book…but I genuinely loved him. Yeah, he messed up a lot…and is constantly making stupid decisions. But he's so aware of it. Enne is annoying and thinks she's not…but Levi is so aware of what a nightmare he is and that's so much better than being ignorant of your own flaws in my opinion. Also Levi's dreams and ambitions in this book just made him so much more real in this book?
ENDING
When I tell you the ending of this book was EPIC, I mean it was EPIC. I was genuinely blown away by EVERYTHING happening in the last 70%. I was holding my breath and yelling the entire time and punching the wall. Damn, I'm still not over it? Obviously, spoilers but I loved EVERYONE at the end. No matter what I thought of them before, the entire cast was so epic and vulnerable and awesome at the end, I was just in SHOCK. Gah. Still not over it!!!!
Have you read The Shadow Game series? What's a book that is dark but also fun at the same time? What is your favourite recent read? What's a book with a plot twist that had you reeling? Let me know in the comments.