Today's post will feature 1) cake 2) fangirling and 3) a very special book dragon!
As you can image, I am SUPER excited!! I probably gave everything away from the title, OOPS. But let's pretend everything here is one huge surprise party because it is way more fun that way, okay? This is going to be a huge jam-packed post but that's what makes it so much fun.
I guess I should start from the beginning. You probably all know the famous blogger, Cait @ Paper Fury. Last year, Cait announced her debut novel was going to be published. The whole of book twitter went WILD, me included. I think it was fair to say everyone was screaming and shrieking. I thought I would have to wait until June, the release month, to read the book but I was wrong.
Cait has been one of my favourite book bloggers for SO long so I was wildly anticipating her debut. When the cover was announced, I WAS SCREAMING. When the blurb was finalised, I was SCREAMING. But it's fair to say I was screaming the most when I opened up a package of an ADVANCED READER COPY of her book! I was getting to read the book months early and I couldn't have been happier.
Today I'm going to be taking part in a blog tour for the book A Thousand Perfect Notes by CG Drews. I'm going to share my review and then talk to her about the book a little more so stay tuned until the end of the post for that 😉
Thank you to Hachette Children's Group for the review copy! All opinions are my own.
I am NOT okay.
This FREAKING book?! This book? THIS BOOK. My heart is broken and these are only small tears I'm swallowing down. Okay but really, I feel like my insides have just been ripped out and the air has been stolen from my lungs and someone has taken my soul and has let it crumble because of this book. OH HOLY FRICK.
I kind of just sat there, looking for more pages until I came to the realisation that I had finished the book…and THERE WAS NOTHING I COULD DO.I… I am deceased
MY FEELINGS.
I was only a little worried that I wouldn't like this because…it's contemporary. But I mean IT'S BY THE QUEEN CAIT, I had to love it. But pffftt, WHY WAS I EVEN SCARED?!? I loved every moment of it, and excuse the pun, it was perfect.
Synopsis
A THOUSAND PERFECT NOTES
by C.G. Drews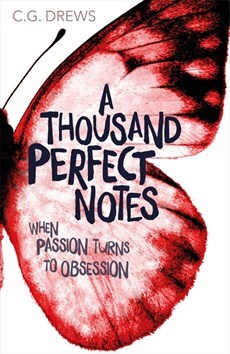 An emotionally charged story of music, abuse and, ultimately, hope.
Beck hates his life. He hates his violent mother. He hates his home. Most of all, he hates the piano that his mother forces him to play hour after hour, day after day. He will never play as she did before illness ended her career and left her bitter and broken. But Beck is too scared to stand up to his mother, and tell her his true passion, which is composing his own music – because the least suggestion of rebellion on his part ends in violence.
When Beck meets August, a girl full of life, energy and laughter, love begins to awaken within him and he glimpses a way to escape his painful existence. But dare he reach for it?
Review
Beck is a precious cinnamon roll and I love him so much omggg. He's grumpy but smol and soft on the inside and asdfghjkl I NEED TO PROTECT HIM. August calls him a marshmallow with a burnt outside and I couldn't put it any better.
I kind of just wanna give him hot chocolate and cake and a blanket and be like "YOUR DOING AMAZING SWEETIE" because he just deserves everything in this entire world. NOTHING BAD CAN HAPPEN TO HIM. ever.
Beck is not allowed a life because he has to practice the piano. He refers to his mother as the Maestro because she's evil and over-powering and watching him suffer was such a heartbreaking experience. I just wanted him to be okay? JUST FOR ONCE. My feels.
Beck hates playing the same pieces over and over again. He has this music inside of him and he wants to compose HIS OWN MUSIC. But his mother forbids it and forces him to play what SHE wants. There are so many times when I wished death upon Beck's mother. So many times when I just wanted to hug Beck because it wasn't okay. 
As you can imagine it is a very dark and poignant story. I think this book tackles with abuse very well (Though I can't personally speak on that). Beck's life is very depressing and sad and the story has many dark moments full of raw emotion and places where your heart breaks for the characters. While there are so many hopeful scenes, there's also a lot of miserable and sorrowful chapters in here.
And then we have August, the light of this story. I had slight worries it would be "love-interest-saves-you-from-your-abuser trope" or that she'd fall into the "manic pixie girl" stereotype so I was scared.
But I was pleased to find that August was amazing and adorable.  She's just so vibrant and full of energy and smiles and her house is basically stuffed with animals and she's just great okay?!! I have no words. SIDE NOTE: The Frey Family NEEDS WAY MORE SCENES and appreciation!!
ALSO BECK AND AUGUST MY OTP! ASDFGHJKLLKJHGFDSASDFGHJKLKJHGFD SASDFGHJKLKJHGFDSASDFGHJKL. I HAVE NO WORDS I AM NOT OKAY THEY ARE BEAUTIFUL AND WONDERFUL AND MY HEART IS EXPLODING WITH LOVE AND I AM JUST SO FULL OF HAPPINESS AND STARS I AM BURSTING.
Agh okay, I shall calm down. It's a slow-burn romance and it's cute and awkward and alive and beautiful and perfect and I just can't. It is actually painful for me to even talk about them because of THE ENDING. But later.
Let me just pretend that they live happily together with eating cakes in strange shops and sharing music together and playing songs for each other on the piano and holding hands and watching the stars and MY. HEART. I SHIP THEM SO WILDLY IT HURTS.
Agh, they're SO INCREDIBLY cute. And I would honestly wholeheartedly read a book about them just being happy cinnamon rolls. PETITION FOR CAIT TO WRITE THIS BOOK PLEASE AND THANKS. THERE IS NOT ENOUGH BECK AND AUGUST I AM SORRY I DONT MAKE THE RULES.
Joey is Beck's little sister and SHE'S FANTASTIC!! Excuse me while I just fall in love with every single character but she's really something. I love their sibling relationship, it's always nice to see siblings in books and this one was so sweet and heartbreaking!? Beck loves Joey so much and Joey herself is so fiery, bubbly and lovable whilst also being super annoying. Gah, siblings.
"He's pretty sure glitter is an evil substance that is magnetically attracted to people who hate it most."
I love the writing and music!! I love how there are such beautiful lines in here that just give me chills because they're that good. I especially loved the way Beck described how he felt when he played his music. Those experiences and descriptions. DOWNRIGHT BEAUTIFUL.
"The world is a broken mirror, each shard reflecting his terrified face."
"But the notes inside him roil and break and press so hard against his skin they'll rip the seams and he'll burst and – maybe they'll call him empty after all. Maybe no one can see his music, his own music, but him." 
"He wants to be invisible. An invisible boy with an invisible song in his head." 
Honestly, I could go on forever with my favourite lines from this book. The whole story was so beautiful and well written. oops, I just fell over in appreciation
And it's SUCH a Cait book?! Not in a bad way but in the best way possible. Like there's CAKE (I mean would it be her book if there wasn't cake) and there's chocolate and there's so much food, MY STOMACH IS RUMBLING. And there's banter and strange parents and such witty lines!!
"Chocolate is a substance worth existing for": THE TRUTH AND THE TRUTH ONLY.
And I have never read such a relatable sentence: "Pairing? Group projects? Is the world intent of being cruel today?"
THE ENDING WAS PURE HEARTBREAK. THE ENDING TOOK MY SOUL, CRUSHED IT, PUT IT BACK TOGETHER AGAIN, AND THEN LET IT CRUMBLE AGAIN. This is spoiler free but just know that the ending…UGH. I don't know how to compose myself get it, because you compose music and then…no? Okay. my bad puns are so bad. I don't know how to feel because THE ENDING BREAKS MY HEART SO MUCH?? I'm not crying, of course not.
I think I MAY have ranted for way too long. I WANT TO GUSH ABOUT THIS BOOK FOREVER. This happily took my expectations and blew them apart because I WASN'T EXPECTING THIS.
This book is a book about soft, sweet boys and magical, brave girls and cake and chocolate and hope and escaping and being happy and being trapped and music and pianos and it's heartbreaking and everything I never knew I needed. 
INTERVIEW WITH C.G. DREWS
cait
ilsa
If you could describe your book in 3 words, what would they be?
Intense. Bittersweet. Hopeful.
When did you write A Thousand Perfect Notes and how long did it take you?
I wrote the very first draft in 2015 in June and my fingers were so cold while I was typing that I, a very bitter author, set my book during the cusp of winter too so my characters could suffer with me. (All my secrets come out!) If I remember correctly, it took me about 10 days to finish that draft.
 Where did you first get the idea for your debut?
My writing inspiration always comes from a whole tangle of things! For this one, I distinctly remember having a sticky note on my wall that basically said: "Genderbent Cinderella retelling + music + his name is Beck." It all started from there. Being a pianist myself, I have always wanted to write about music and the way it can be an obsession or sometimes healing. That contrast is definitely important in the book as my story also deals with the darkness of violence set against the sweetness of friendship.
 How did you celebrate when you found out you were getting published?
Oh just the usual, you know? I stood atop a mountain and screamed joyfully for about 6 months straight. There was definitely cake involved as well.
How can we support your book, as readers?
Read it! Buy it! Ask your library to buy it! Tell people about it! (Word-of-mouth recommendations are amazing, so if you happen to throw copies at your friends or family – you are lovely.) And I think this goes for most authors and their books: but don't be afraid to tell an author you enjoy their art too. They won't bite, I promise!

Cait is the creator of Paper Fury, where she blogs about YA books, dragons, and her wild writing adventures. She lives in Australia and believes in cake for breakfast.
Holy cookies, that was a long post. This took me a long time to put together so I really hope you enjoyed the post and have all pre-ordered A thousand perfect notes (it comes out tomorrow) if you can!! The cover is so pretty and it's amazing so there will be no regrets.
You can buy your copy from
In fact, this book is FABULOUS and I would know, I've READ THE BOOK TWICE AND IT IS NOT EVEN PUBLISHED!! I actually did a blogger interview with Cait last year so check that out here and you can find another interview here. 
A THOUSAND PERFECT NOTES BY CG DREWS IS IS PUBLISHED JUNE 7th 2018 IN THE UK. YOU CAN READ MY ORIGINAL REVIEW HERE. Find out more info about her novel here.
Is this book on your TBR?! Have I persuaded you ATPN is amazing? What is a book you've read that focuses on music? And what's a book you recently read with BEAUTIFUL writing? Are you a fan of Cait's blog? Let me know about your excitement in the comments!!