So in case you didn't know, I am Muslim Teen. This book features a Muslim Teen main character.
IM PRETTY SURE YOU CAN HEAR MY SQUEALING ALL THE WAY OUT ON JUPITER for those who live there. Let's make this clear, I've never read a YA book with a Muslim main character. And that's partly because there is actually so little of them and that's a problem!
So when this sweet little book arrived from the publishers in the mail a few weeks ago I couldn't contain my excitement because 1) MY FIRST PHYSICAL ARC and 2) A MUSLIM MAIN CHARACTER. I REPEAT. A MUSLIM MAIN CHARACTER. AGAHGAH, it was so impossible and surreal for me to finally, hopefully, see myself in a book.
And then from there, when I opened up this book, a lot of feelings came through. Some happy, and some gutted and some angry and a few other conflicting emotions.
Thank you to Hot Key Books for the review copy! All opinions are my own and quotes are taken from the proof and are subject to change.
 +Maya is a good MC
Maya is honestly really sweet; she absolutely loves making movies and has this major crush on Phil, a guy in her class. And she's so rootable and likeable. I could connect with her over the course of the book, understanding her motives and sympathising with her a lot. She was real and very well developed!
+GIMME the food right now omigosh
Maya has an Indian background and while I am not Indian, a lot of the food mentioned like samosas and Tandoori Chicken were mouth-watering in a familiar way. YAS. It was so great to see the lovely food part of culture being shown in this book and just added an extra level of depth to the book BECUASE REALISTIC. I eat this food too. I want to eat this food right now. But I mean there's also a lot of cake sharing between Phil and Maya which warms my heart.
+So, let's talk about the romance.
And here comes the part WHERE I AM SO TORN. So we have Kareem and to me, that was total insta love. I did not ship it and I am glad Maya cut ties with him before anything really developed.
And then we have Phil, who is Maya's all-time crush, and that is not insta love. It's developed and I admit, very fluffy. I shipped it and sometimes I thought this book focused too much on the romance. Which annoyed me. Because in the midst of all the bad things, Maya still went on and thought about her love life and it felt like sometimes she paid too much attention to it?!
But my problem with this is not about the way the romance was developed. It was about the whole controversy of "Muslims girls dating". And In a contemporary with a Muslim MC, I was hoping this was going to be tackled in some way. But No. Maya just says "I know how to sneak out". But really? She doesn't struggle with wanting a relationship with Phil but also wanting to please her parents. I mean sure she jokes about her parents are not okay with it. But she never feels one ounce of guilt or regret about Phil, concerning her parents and her religion.
+ MY OWN PERSONAL thoughts on the Muslim Rep.
There was a lot of "culture" in this book but for me, religion is a struggle. There are ups and downs. But for Maya, there was none of that. She never mentions her beliefs in God like things like whether she believes in Him or not. She never even talks about her religion, well at least not much. And this is an #ownvoices book so I'm not undermining anyone's experiences. But for me, religion plays a huge part in my life. I think about it. But Maya NEVER thinks of God in her life. At. All. It's like her religion is simply just a label.
Look, everyone has their own relationships with their religion, and I'm not questioning that. But if I hadn't been told Maya was Muslim, apart from the terrorist attack and the mention of the Qu'ran from her parents, I wouldn't have known. That's because I never see Maya pray, or think of God, or think of the Qur'an and struggle with her beliefs or do anything, to show she is a Muslim. And this is a hefty topic because belief is in the heart. But this was 1st person, i wanted to something to relate to. Anything. BUt really Maya only struggles with her Indian culture and not her religion. It's like, WHERE IS ANY SINGLE PART OF HER MUSLIM IDENTITY?!!?! Where is those part of her, those Muslim parts of her? I DONT SEE IT ANYWHERE.
My father picks up where my mother leaves off. "These terrorists are the antithesis of Islam. They're not Muslim. Violence has no place in religion, and the terrorists are responsible for their own crimes, not the religion and not us."
See look, the Muslim struggles concerning society ARE THERE. But the actual belief and religions and teachings? ZILCH.
And I'm not expecting a perfect Muslim who prays 5 times a day but there was LITERALLY NOTHING to show she was Muslim. And for a Muslim reader, that's difficult. Becuase I was looking for Muslim rep. Instead, I got Indian rep which is great but a massive seller of this to me was the Muslim representation.
Another example is when at one point, Kaleem drinks wine and Maya is dumbstruck. And he's just like "Yeah my parents know. NO BIGGIE" ANd see what I mean? Religion is totally discarded here. And then he jokes "No need to be shocked, Maya. it's not like I'm eating pork.". WHAT NO?? You are not allowed to eat pork, same with drinking Wine. One is not worse than the other. ANd the problem here is that if someone wanted to know whether Muslims were allowed to drink and read this book, they'd probably think the whole Wine being forbidden was a joke. And Islam is not a joke.
+I definitely could relate to the Islamaphobia though.
She got a lot of hate from Brian which was horribly relatable. And people called her terrorist and things like that and again, shockingly familiar to me. It showed the horrors of hate crime and how "terrorism has no religion" as Maya's dad amazingly said.
I'm scared. I'm not just scared that somehow I'll be next; it's a quieter fear and more insidious. I'm scared of the next Muslim ban. I'm scared of dad getting pulled into Secondary Security Screening at the airport for "random" questioning. I'm scared for the hijabi girls I know getting their scarves pulled off while they're walking down the sidewalk––or worse. I'm scared of being the object of fear and loathing and suspicion again. Always
+I feel like Maya a lot of the time was a lovesick puppy.
I mean the beginning, the insta love was making me sick. And the cute fluff. It's not the book, it's mostly me because I honestly can't stand cute texts and blushing. Not to mention, Maya is the queen of blushing. I think I've blushed once in my life. We shall forget this okay. So, yeah this was more "me" thing because romance has to be done in a specific way.
+AND CAN WE PLEASE HAVE BETTER PORTRAYAL OF MUSLIM PARENTS?!!?!?!?!??!?
I want to freak tear something or punch something right now. Most of the book, we had an amazing portrayal of the parents but realistic as well. But there were parts that irked me. Like the mum fell into every stereotype EVER. "You need to get married", "You need to find a sensible man". And I don't want people to see Muslim parents like that. Maybe that's Indian parents (i don't know) because that's literally what everyone thinks. And now it's just showing that's all Indian/Muslim parents think about. Marriage.
And frick, that may be true in some cases. But I really want to see supportive mothers and fathers who don't even care if their daughters get married. Like my mum cares ABOUT OTHER THINGS ABOUT ME. Like all Maya's mum cares about is if 1)Maya gets married and 2) if Maya seats properly. Now, the second one is relatable but the first?!!? Your mum should care about your hobbies, your interests not just if you are going to freaking get married. It annoyed me.
I mean it sure was relatable when Maya's mum kept reminding Maya to "eat food" and when Maya says that you are "either too skinny or too chubby" BECAUSE YES I AM HERE WITH YOU MAYA. But MILD SPOILER AHEAD –> They disown her for wanting to go to a college?


+ The Supporting Cast warms my heart!
VIOLET. I wanted Violet to have more of a part of the story but she was always there for Maya and she literally stood up for herself and Maya so many times. I love amazing female friendships like this
Phil is a pure sweet cinnamon roll and I love him. He had his own struggles and he suffered and he's literally the best romantic bean ever.And Kaleem? He backed off after a while and was such a great friend of Maya despite everything. THANK YOU.
The honest, pure, kind, HINA had me cheering. Hina is not married and she's a graphic designer and literally my favourite. OMG, WHY CAN WE NOT FOCUS ON HER MORE?! Please give me a whole book on Hina, thanks. She is marvellously great and breaks all stereotypes which are honestly so refreshing to see! AGH Hina supports Maya through everything and it honestly made me smile.
I finished this in a matter of hours because the writing was quick and I basically just devoured it. It was engaging, powerful and realistic all at the same time and with a dash of flawless writing and amazing characters, you will not regret this read. However the Muslim rep really wasn't there for me, but there were great Indian culture and a beautiful story!Anyways, the Muslim rep is just me! Other Muslims may think it was great. I did not…really. Still a roller coaster of a book and super intriguing! I definitely enjoyed this book, just some aspect put me off.
RATING: 3 STARS
★★★☆☆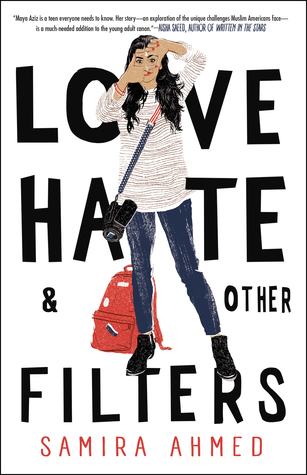 LOVE, HATE & OTHER FILTERS
by Samira Ahmed
 A searing #OwnVoices coming-of-age debut in which an Indian-American Muslim teen confronts Islamophobia and a reality she can neither explain nor escape–perfect for fans of Angie Thomas, Jacqueline Woodson, and Adam Silvera.
Maya Aziz is torn between futures: the one her parents expect for their good Indian daughter and the one where she goes to film school in New York City–and maybe, just maybe, kisses a guy she's only known from afar. There's the also the fun stuff, like laughing with her best friend Violet, making on-the-spot documentaries, sneaking away for private swimming lessons at a secret pond in the woods. But her world is shattered when a suicide bomber strikes in the American heartland; by chance, he shares Maya's last name. What happens to the one Muslim family in town when their community is suddenly consumed with hatred and fear.
LOVE, HATE & OTHER FILTERS IS PUBLISHED ON JANUARY 16th 2018. You can order a copy here and read my original review here.
Have you read a book with Muslim representation? What's your most recent diverse read? What book let you down on representation? Are you going to read Love, Hate & Other Filters? Tell me all!