Hi. I read this book and I DON'T EVEN KNOW WHERE TO START???
Starfish was so incredibly beautiful. It's just that book WHERE YOU CAN'T EVEN. Words do not suffice at this point. What's the point of writing a review WHEN YOU CAN JUST READ THIS BOOK? I will try and fail, to review this book (but omg it's so much more than that). I have so much to say about this book BUT HOW DO I WRITE AGAIN?
Thank you Netgalley and Simon Pulse (Simon & Schuster)  for the review copy! All opinions are my own and are not affected by this.
Let's start with our Main Character, Kiko, WHO IS HALF-ASIAN (half white). Can we just appreciate that for a moment? While I couldn't really relate to her feeling out of place because of being Japanese (London is very multicultural) but Kiko is SO GOD DAMN SWEET AND REALISTIC. She goes through SO FREAKING MUCH and I just want to hug her and be like…FLIP LIFE ATM.
And her character arc is so beautiful. She has social anxiety (I think the rep was DONE REALLY REALLY EXTREMELY WELL. I don't have anxiety but GOSH, this was just described in such a real, raw way) and she likes to draw and paint (!!) and I love literally every sentence that was about her painting. Her passion, her hobby, was SO MAGICAL. I could literally see Kiko's paintings in front of my eyes.
"Beauty isn't a single thing. Beauty is dreaming – it's different for everyone, and there are so many versions of it that you mostly have no control over how you see it."
This book had the best messages…LIKE EVER. It's all about beauty, HOW BEAUTY COMES IN DIFFERENT FORMS, how Asians can be pretty (I hate you Adam. just letting you know) how beauty is different, not just in one form, it's not blond hair and blue eyes, it's not celebrities and magazines, it's you and loving you and I JUST APPRECIATED THIS BOOK FOR THAT.
And the romance was SPOT ON. I really really enjoyed it. it was perfect slow burn and Kiko made she was actually ready for Jamie, for a relationship. She gave time for herself, and at the end, she LOVED herself and no matter how much it pained her, she made herself stronger and she was stronger. She was such a strong character. And when they were together, OMG IT WAS WRITTEN PERFECTLY SO THAT I SHIPPED THEM TOO MUCH.
This was a lot about Kiko finding herself, loving herself, accepting herself and coming to terms with; YES SHE IS HALF-AISAN, YES SHE CAN BE PRETTY, SHE CAN't PLEASE EVERYONE, SOME LOVE IS TOXIC and literally the list goes on. What I'm trying to say, THE MESSAGES ARE SO PROMINENT AND RIGHT AND PERFECT and they're added so amazingly into the book.I really liked that Kiko got to know more about her Japanese Heritage.
The writing IS TO DIE FOR! I practically finished this book in one sitting and it was so addicting and so easy. I didn't feel like I had to concentrate, I was so immersed in the character's and what was happening which is super surprising for a contemporary book. Bowman IS ACTUALLY A MASTER AT WRITING. it is so pretty and want to add like 50 quotes from the book here. It wasn't slow at all, It was paced so well.
"He doesn't wear his heart on his sleeve; he keeps it in a locked box with all of his dreams and expressions because he doesn't want to share them with the rest of the world"
OMG KIKO'S MUM WAS UTTER TRASH. I get if she was going through tough times herself or had a mental illness but NO SHE IS JUST PLAIN RACIST… TO HER OWN CHILDREN Sorry she doesn't know what 'unconditional love is'
I officially hate starfishes now BECAUSE OMG YOU SELF-CENTRED little…UGHHH. I HATE her with a passion.
She literally always ruins Kiko's life and all she cares about is just HER REPUTATION and HER LIFe. GO FRICKING DIE OKAY. She literally changes her moods ALL THE TIME and makes everything about her. I could give you about a million examples of how Kiko's mum is SO WRONG IN EVERY WAY. She lies and SHE IS SO MANIPULATIVE.
And you know what. I GET Kiko for wanting her mother's love and approval. I so so get that. Because what child doesn't? I get why Kiko gave in nearly every time and I think that's what makes Kiko real. Because she's not perfect. She was a child who wanted her mum. AND I AM SO GLAD that was acknowledged and her character at the end, was different and she realised that her mum's love was some fake version of love! THANK YOU
I do think this had some parallel's with Eliza and her monsters; Art, brothers she doesn't really know, social anxiety but the stories definitely are very different. I just thought about this a lot when reading.
I also would have loved more of some characters like; her best friend (forgot her name??), the dad and their side and a few more but I think everything was very seamless.I also think Jamie was a little TOO PERFECT but besides the point…
I need like a moment. No 78 moments. I had like emotions. No like 56 emotions. I can't even X 5678 okay?? THIS BOOK MADE ME WHOLE. It's just so so IMPORTANT and so BEAUTIFUL and it's exactly the kind of book YOU SHOULD BE READING RIGHT NOW.
Also please appreciate the cover even though there's a massive jellyfish on it, not a starfish! IT IS STILL A BEAUTY AND AN AWE TO LOOK AT OKAY??
RATING: 5 STARS
★★★★★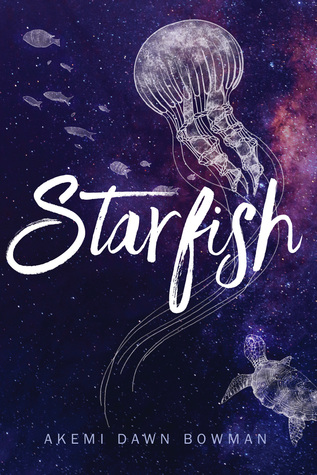 Kiko Himura has always had a hard time saying exactly what she's thinking. With a mother who makes her feel unremarkable and a half-Japanese heritage she doesn't quite understand, Kiko prefers to keep her head down, certain that once she makes it into her dream art school, Prism, her real life will begin.
But then Kiko doesn't get into Prism, at the same time her abusive uncle moves back in with her family. So when she receives an invitation from her childhood friend to leave her small town and tour art schools on the west coast, Kiko jumps at the opportunity in spite of the anxieties and fears that attempt to hold her back. And now that she is finally free to be her own person outside the constricting walls of her home life, Kiko learns life-changing truths about herself, her past, and how to be brave.
From debut author Akemi Dawn Bowman comes a luminous, heartbreaking story of identity, family, and the beauty that emerges when we embrace our true selves.
STARFISH IS PUBLISHED TODAY, SEPTEMBER 26th 2017, YOU CAN BUY A COPY HERE. YOU CAN READ MY ORIGINAL REVIEW HERE
What book have you read with an Asian MC? Don't you love amazing writing? What are some of your favorite ARTY characters? Are you excited to read Starfish? (you should be) Adding it to your TBR? Tell me!
(also sorry for posting a review on Tuesday. I wanted this review to be posted on its release day)