Stabby fun, malicious murders, and bloody knives is 100% my type of story!
I AM NOT A PSYCHOPATH. Though I do enjoy eating souls on an occasion! But while I do not want to kill you (just yet…) I love reading books that are full of violence but mysteries as well! Can't get enough of mystery!
Thank you to Dutton Books For Young Readers, HMH Books for Young Readers, Delacorte Press and Penguin Random House for the review copies!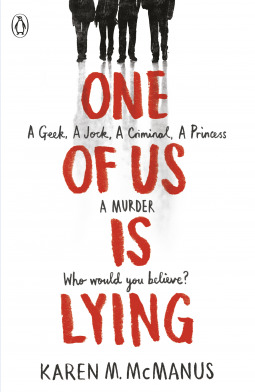 ONE OF US IS LYING
 Karen M. McManus 
★★★★☆
One of Us Is Lying is a realistic contemporary which surprised me. The story is told by the 4 suspects, Brownyn, Addy, Cooper, and Nate. This book has a fantastic and intriguing premise which kept you glued to the pages.
It's incredibly well-written, fast-paced and full of mystery. I read it fairly quickly and it takes no time in getting to the plot twists and action. It's got a dash of romance in there so that was really great as well.
It didn't exactly get 5 stars. I wanted a spark, to be blown away by the plot twist but I'm a genius? What can I say? I guessed half the plot twists and the character voices weren't too unique either. Most stuff had already been said about this book so I'll leave it at that.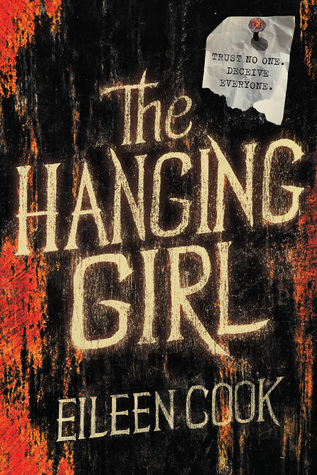 THE HANGING GIRL
Eileen Cook 
★★★★☆
DAMN, this book just ticked everything off. It's good, compelling, hooking and just everything you could ever ask for handed to you on a plate.
Best friend who is this ball of awesomeness✔
Murder✔
Mystery✔
Plot twists✔
Little bit of physic power✔✔
Detective scenes✔
MC who is like Sherlock ✔✔✔✔
Hooking plot✔✔✔
Ice cream appreciation. ✔Basically, everything a good book is and I appreciate this book so much for doing what it does! It hooks you within the first pages, and it's very easy to just fly through this book. Just when you think one plot twist has been revealed, another one is there. To be fair, I did guess the second plot twist but the first reveal was really quite shocking.What I just adore about this book is the Main Character, Skye who is just basically a marvelous liar and is like Sherlock (massive fan) with all her deduction skills. I admire characters like this who can know so much about a person just by looking at them. I was immediately in love with her and while the characters remain just likable, it's easy to root for them and care about their story.This book filled its full potential but I just don't feel it's memorable and wasn't as feel or mind-bending was I wanted it to be. I'm not head over heels in love with it, it's just VERY VERY good and a book you should definitely get your hands on. It's marvelously clever and has so many tricks up its sleeve.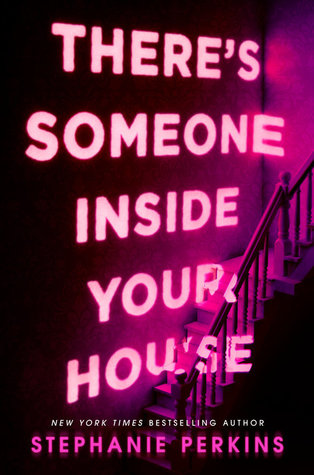 THERE'S SOMEONE INSIDE YOUR HOUSE
 Stephanie Perkins
★★☆☆☆
If I could sum this book up in one word it would be DISAPPOINTING. While this was horrific and creepy…it was also very underwhelming.
Does Stephanie Perkins know how to write horror scenes? YES, they're very chilling, and creepy. They're written fabulously and all the horror. It definitely got me scared a little and I liked that! The horror aspect was done 99% well.
BUT The characters just fell flat for me and all the backstories of 'diverse' characters were just dumped on us. I didn't care for anyone at all and it was a little 'MEH'. I didn't FEEL anything for them and did not connect to them. The relationships were so dramatic and random and it all felt a little funny than scary.
Plus there is LIKE ZERO MYSTERY AND SUSPENSE. We find out the killer halfway through. Wow. Mindblowing.
I am just a sad grape. I got accepted for a really hyped book for an ARC! But everyone seemed so bland and Makan's secret was so anti-climatic I want to just sigh. It was somewhat enjoyable but really…It's a no from me. XD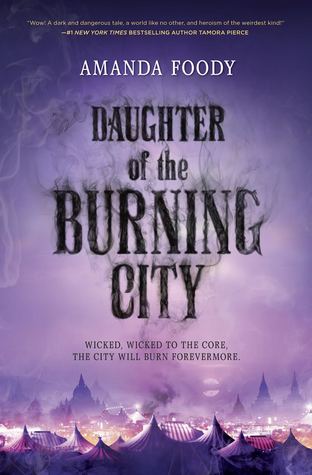 DAUGHTER OF THE BURNING CITY
Amanda Foody
★★★★★
GOODREADS
FULL REVIEW
That was seriously SERIOUSLY AMAZZZZZZZZZZZZIIIIINNGGGG. I FREAKING LOVED IT.
Hell, Amanda Foody knows how to write. And she knows how to write well. The vivid descriptions, the subtle hints, the way magic, and metaphors were used to explain certain aspects were amazing. She has crafted this world very carefully, sorting through plot holes and making sure every aspect of the world is perfect and makes sense. You can just see how much thought it has gone into this fabulous FABULOUS work.
THE PLOT TWISTS ARE TWISTY ON A WHOLE OTHER LEVEL. I don't know if it's just me, but those plot twists WERE SERIOUSLY SO TWISTY AND STABBY AND FUN. I did not see them coming they were BREATH-TAKING. Literally, I had to pause for a few moments to comprehend the twists. Foody is a trickster and genius, she sure knows how to bend your mind.
This is mind-bending, magical murder and deliciously amazing. There is MURDER and stabbing and little chilling doodles. You're confused half the time, you can't breathe. It's magical and the world is beautifully crafted.
Thanks, go read this now.
Have you read any of these books? Are they on your TBR? Do you love murder mysteries? Tell me one of your disappointing ARC's/books. What hyped books have you been reading?